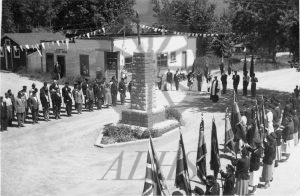 : 2004.026.26
:
:
: 1950-11-11 - 1957-11-11
: 1950s, Arrow Credit Union, cenotaph, Edgewood Avenue, Edgewood Cash Grocery, Edgewood cenotaph, Edgewood post office, Inonoaklin Valley Road, Mitchell; Rev. Canon Thomas, post office/Canada Post, Remembrance Day, Royal Canadian Legion Branch 203, and store
: Edgewood
:
1 b/w photograph (12.1 cm x 8.1 cm)
:
Crowd and veterans gathered in formation around war memorial cenotaph, Remembrance Day ceremony, Edgewood Avenue at Inonoaklin Valley Road, Edgewood, 1950s (no later than 1957). Rev. Canon Thomas Mitchell overseeing ceremony. Edgewood Cash Grocery (post office/Arrow Credit Union) in background. Photo via estate of Adeline Jackson.
Purchase Print