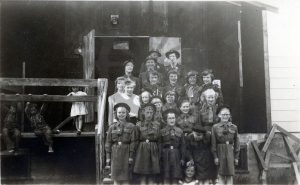 : 2004.026.24
:
:
: 1952-- - 1954--
: 1950s, Baker; Sharon (Pender), Bakker; Sharon, Cochrane; Betty, Devlin; Annette (Hopp), Farrer; Peggy, Girl Guides/Brownies, Ivens; Ellen (Hopp), Jackson; Charlotte, Jordan; Judy, Kirkman; Ruby, McDonnell; Donna, McLeod; Beverly, Millar; Anne, Milne; Byron, Milne; Charmaine, Milne; Gene, Nesbitt; Darlene, Pender; Ken, Shiell; Jim, Spence; Connie (Park), and Watts; Norma
: Edgewood
:
1 b/w photograph (13.6 cm x 8.6 cm)
:
Group portrait of 1st Inonoaklin Girl Guides, Brownies, and their troop leaders, Edgewood, ca. early 1950s. CHILDREN AT LEFT (L-R): Byron Milne, Gene Milne, Charmaine Milne. TOP: Ruby Kirkman, ?. 2ND TOP: Norma Watts, Anne Millar. 3RD TOP: ?, Charlotte Jackson, Beverly McLeod, Connie Park?, Darlene Nesbitt. 3RD BOT: Betty Cochrane, Sharon Bakker, ?, Ellen Hopp. 2ND BOT: Connie Park?, Donna McDonnell. BOT: Judy Jordan, Peggy Farrer, Jane Shiell, Kenny Pender (sitting), Sharon Pender, Annette Hopp. Photo via estate of Adeline Jackson.
Purchase Print