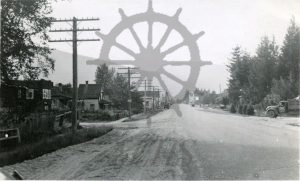 : 2004.011.1
:
:
: 1945-- - 1954--
: automobiles, Bourne; Frank, Broadway Street, Crowell; Fletcher 'Flet', Crowell; Joe, Hakeman's Imperial Service Garage, Herridge; Eileen, Nakusp Hardware, Nakusp Improvement District, Nelson Avenue, postcard, and Reilly; Dell Emanuel
: Nakusp
:
1 b/w postcard (13.9 cm x 8.9 cm)
:
Postcard featuring westward-looking view of Broadway Street at Nelson Avenue, ca. turn of 1950s. Buildings L-R: Joe Crowell house (Israel house), Flet Crowell house (later Byron Crowell), Frank Bourne house, Manning/Del Reilly house, Joe Crowell house, water district office, Hakeman's Imperial Garage. Nakusp Hardware truck entering photo on right. Postcard addressed to Nakusp native Eileen Herridge of Vancouver, ca. 1954.
Purchase Print