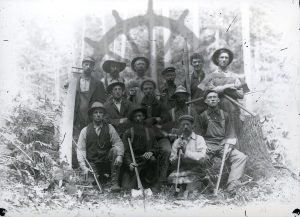 : 2004.009.97
: D19-15
:
: 1910-- - 1919--
: Chris Hamling Jr. and Milton Parent
: 1910s, Aalten; Hendrik, Bergwerf; Cornelis 'Cees', Boyd; Byron, forest, Hamling; Chris Sr., Jansen; Karl, Moul; Tom, Reyden; Bill, Reyden; Jack, road construction, Wensley; Fred, and Wensley; Jack
: Brouse and Summit Lake
:
1 b/w photograph (17.7 cm x 12.6 cm), 1 b/w negative (35 mm)
:
Group portrait of crew clearing right-of-way for road between Brouse and Summit Lake, ca. 1910s. TOP (l-r): ?, Byron Boyd, Hendrik Aalten, Quay?, Tom Moul, ?. MID: Jack Reyden, Chris Hamling Sr., Cornelius Bergwerf, Karl Jansen. BOT: Bill Reyden, Fred Wensley, Jack Wensley.
Purchase Print