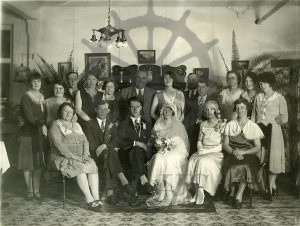 : 2004.009.95
: F21-1A
:
: 1930-11-26
: Milton Parent and Ponnie Jansen
: 1930s, Barrow; Merril, Beggs; Lena (Evans; Fairhurst), Cartie; Florence, Cartie; Jack, Evans; Cyril, Fairhurst; Bob, Fairhurst; Mrs., Hall; Winnie, Hiltz; Annie (Gardner), Hiltz; Clarence, hotel, Hurry; Edith (Dilley), Jansen; Olive 'Ponnie' (Young), Leland Hotel, Newstead; Mille, Pratt; William J. 'Bill', and wedding
: Nakusp
:
1 b/w photograph (21.5 cm x 16.4 cm), 1 b/w negative (35 mm)
:
Wedding reception attendees, Bob Fairhurst-Lena Evans wedding, Leland Hotel, Nakusp, 26 November 1930. TOP(l-r): Millie Newstead, ?, Merril Barrow, Edith Barrow, Annie Hiltz, Bill Pratt, Flo Cartie, Clarence Hiltz, Jack Cartie, Mrs. Moore, Winnie Hall, Edith Dilley. FR-Mrs. Evans, Cyril Evans, Bob Fairhurst, Lena Fairhurst (Lena Evans), Ponnie Young, Mrs. Fairhurst.
Purchase Print