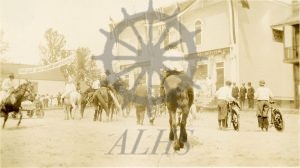 : 2004.009.88
:
:
: 1923-07-01 - --
: 1920s, bicycle, Broadway Cafe/Royal Cafe, Broadway Street, Canada Day, Canadian Imperial Bank of Commerce, horse, Masonic Building (Nakusp), Nakusp post office, Nakusp Ski Club, parade, post office/Canada Post, restaurant, and Slocan Avenue
: Nakusp
:
1 photograph : b/w ; 11.1 x 6.5 cm
:
Paraders (including men on horses, clowns, and children with bicycles) in front ofMasonic Building (317 Broadway Street W, Nakusp, housing Masonic Lodge, Canadian Imperial Bank of Commerce, and Nakusp post office) decorated for July 1st parade, 1 July 1923. Nakusp Ski Club banner ('Watch us grow') hanging over Slocan Avenue at left. Royal Cafe at right.
Purchase Print