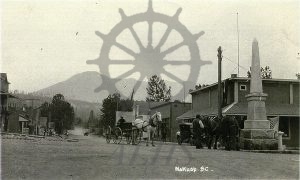 : 2004.009.61
:
:
: 1925--
: 1920s, Broadway Cafe/Royal Cafe, Broadway Street, cenotaph, Edwards Block, horse, Nakusp Drug Store/Head's Pharmacy, Ralph Islip/Broadway Store, Slocan Avenue, wagon, and Wagstaff & Vestrup Hardware
: Nakusp
:
3 b/w digital prints (21.7 cm x 25.1 cm)
:
Broadway Street looking east along 300 block from intersection with Slocan Avenue, 1925. Horse and wagon at centre. Royal Cafe at left. Edwards block (320 Broadway Street W, containing Broadway Store grocery and Nakusp Drug Store) and cenotaph at right. Wagstaff & Vestrup Hardware at centre behind horse. Photo by Geo. A. Meeres, Campbell Art Gallery, Nelson.
Purchase Print