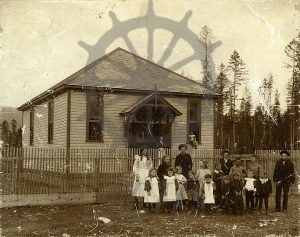 : 2004.009.5
:
:
: 1895--
: Milton Parent and Vera McDougald
: 1890s, Broadway Street, church, Grenfell; Miss, McDougald; Kate, McDougald; Lyland Franklin 'Lyle', McDougald; Sarah Maud (Muirhead), Nakusp School (1894-1912), school, and St. Mark's Anglican Church (1893-1968)
: Nakusp
:
1 b/w photograph (23.6 cm x 18.6 cm on 23.9 cm x 19.0 cm matte)
:
Group portrait on street in front of schoolhouse, 2nd Nakusp School, built 1895 on south side of Broadway Street between Lake and Pine avenues. Teacher Miss Grenfell in doorway. BACK ROW (l-r): Kate McDougald, Maud Muirhead, Lyle McDougald. Pinafores worn to protect dresses. This became St. Mark's Anglican Church in 1898.
Purchase Print