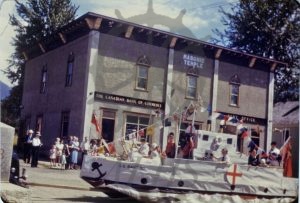 : 2003.026.63
:
:
: 1942-07-01 - 1943-07-01
: 1940s, bank, Broadway Street, Canada Day, Canadian Imperial Bank of Commerce, Canadian Red Cross, Ennest; Anne, Ennest; Dorothy, Ennest; Joan, Masonic Building (Nakusp), Nakusp post office, parade, and post office/Canada Post
: Nakusp
:
1 colour photograph (12.8 cm x 8.8 cm)
:
Float designed in shape of ship named SS Banting, July 1st parade, Broadway Street, Nakusp, 1942 or 1943 (not 1941). Masonic Building (317 Broadway Street W) in background. Joan Ennest dressed as Red Cross nurse, Anne Ennest (centre) dressed as wireless operator), and Dorothy Ennest (right) dressed as John Bull. Photo by W.B. Allan, Nakusp.
Purchase Print