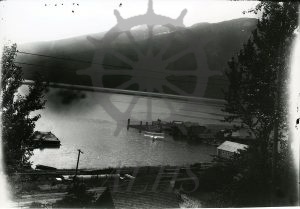 : 2003.026.52
:
:
: 1927-- - 1928--
: Milton Parent and Robert D. Turner
: 1920s, Bay Street, Canadian Pacific Railway, Government wharf (Nakusp), Nakusp & Slocan Railway, Non Pareil (boat), Saddle Mountain, seaplane/floatplane, and Upper Arrow Lake
: Nakusp
:
1 b/w photograph (18.3 cm x 12.2 cm)
:
Nakusp waterfront and Upper Arrow Lake as seen from as seen from Turner family property on hillside, ca. 1927-1928. Saddle Mountain in background. Nakusp government wharf, boathouses, Claude Rollins' boat Non Pareil and float plane at centre. Canadian Pacific (Nakusp & Slocan) Railway and Bay Street at bottom. Photo by Charles Turner.
Purchase Print