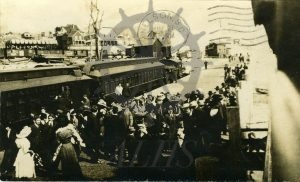 : 2003.026.49
:
:
: 1912--
: Ed Vipond and Milton Parent
: 1910s, Canadian Pacific Railway, Canadian Pacific Railway wharf (Nakusp), Edwards; Wynne, F.W. Jordan store, hotel, Leland Hotel, Nakusp & Slocan Railway, postcard, train, Upper Arrow Lake, and Vipond; Kit
: Nakusp
:
1 b/w postcard (13.8 cm x 9.0 cm)
:
Postcard showing large crowd of people greeting train, Canadian Pacific (Nakusp & Slocan) Railway wharf, Nakusp, ca. 1912. Canadian Pacific Railway station at top right. Leland Hotel at top left on hillside behind F.W. Jordan store. Postcard sent by Wynne Edwards of Nakusp to Kit Vipond of Nelson and stamped at Nelson 21 June 1912. Inscription: 'Nakusp B.C. Have not heard from you yet. Will you be here for the 1st I Hope so Write & let me know. Am home now Remember me to Louise & Brothers Good bye Wynne'.
Purchase Print