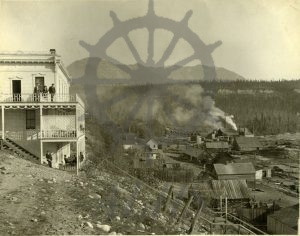 : 2003.026.466
:
:
: 1898-- - 1899--
: Milton Parent and Vera McDougald
: 1890s, Bay Street, forestry, Grand Hotel, hotel, McNeil; James, McNeil; Jessie Jane (Larocque), McNeil; Katie (Basker), Nakusp shipyard, P. Genelle & Co., sawmill, and Sutherland house (Nakusp)
: Nakusp
:
1 b/w photograph (23.6 cm x 18.3 cm)
:
View from hillside of Grand Hotel (foot of Slocan Avenue) overlooking Bay Street, Genelle Bros. Mill, and Sutherland house, Nakusp, ca. 1898-1899. Owner James McNeil on verandah at top with second wife Katie Basker McNeil and adopted daughter Jessie Jane McNeil (nee Larocque). Lean-to at extreme bottom right was attached to Bowman store; Rhuie Hamer and her father lived here.
Purchase Print