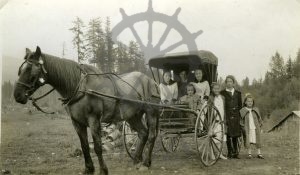 : 2003.026.437
:
:
: 1918--
: Della Parent and Milton Parent
: 1910s, Davis; Annie (Hascarl), farms, Graham; Ethel (Hascarl), Harvey; Nellie, Hascarl; Louis, horse, Jones; Lily (Hascarl), Louis Hascarl farm (Brouse), Mathers; Alice (Leveque; Akerman), Parent; Della (Leveque), and wagon
: Brouse
:
1 b/w photograph (14.3 cm x 8.6 cm)
:
Group posing with Louis Hascarl's horse and wagon, Brouse, 1918. WAGON(l-r):Alice Leveque, Louis Hascarl, Della Leveque, Lily Hascarl (front, seated on Leveque's lap). GROUND:Annie Hascarl, Nellie Harvey, Ethel Hascarl. Leveque girls wearing coats made by Mrs. Crowell.
Purchase Print