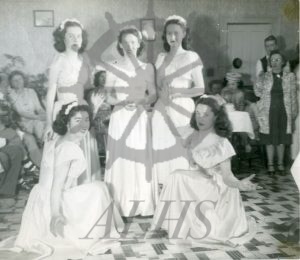 : 2003.026.390
:
:
: 1950-05-03 - 1950-05-04
: Della Parent and Milton Parent
: 1950s, Barrow; Vicky (Obayashi), Desrochers; Doreen (Parent), Fletcher; Pat, hotel, Hurry; Florence 'Flo' (Dilley), Hyciek; Lorraine (Armstrong), Leland Hotel, Morin; Yvonne (Bedard), Parent; Della (Leveque), play/theatre, Portelance; Ed, Teen Town, and Uyeda; Teruko 'Terrie'
: Nakusp
:
1 b/w photograph (25.4 cm x 20.2 cm)
:
Teen Town members in costume, Leland Hotel, Nakusp, 3-4 May 1950. BACKGROUND (l-r):?, Flo Hurry, ?, Terrie Uyeda, Edward Portelance, Della Parent. TOP: Lorraine Armstrong, Doreen Parent, Pat Fletcher. BOT: Vicky Obayashi, Yvonne Bedard.
Purchase Print