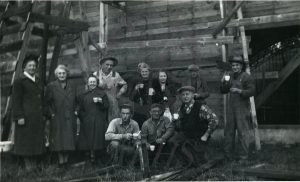 : 2003.026.376
: F18-22
:
: 1953--
: Kate Johnson and Milton Parent
: 1950s, Davies; Bill, Elder; Edna, Henke; Ethel (Kershaw), Henke; Paul R., Johnson; Ernest Cregg 'Ernie', Johnson; Kate (Bailey), Munn; Everett Masson 'Ed', Nakusp Arena (1953), Nakusp Women's Institute, Parent; Della (Leveque), Parent; Joseph Jr., and Rollins; Charlie
: Nakusp
:
1 b/w photograph (14.0 cm x 8.9 cm), 1 b/w negative (35 mm)
:
Group portrait in front of new Nakusp arena under construction, 1953. TOP(l-r):?, Kate Johnson, Della Parent, Ed Munn, Ethel Henke, Edna Elder, Bill Davies, Ernie Johnson. BOT: Charles Rollins, Joe Parent, Paul Henke.
Purchase Print