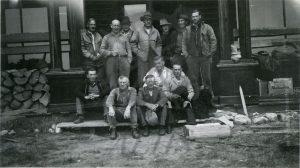 : 2003.026.368
:
:
: 1938-09- - 1939-01-
: Della Parent and Milton Parent
: 1930s, Berard; Dan, Brown; Ted, Ehl; Frank, Harris; John Elmslie 'Jack', hot springs, hotel, Mayoh; Cyril, O'Neal; Mickey, Parent; Joseph Jr., St. Leon Hot Springs, surveying, and Wetterstrom; Axel
: St. Leon
:
1 b/w photograph (11.6 cm x 7.0 cm)
:
Nakusp-Arrowhead road survey crew posing at entrance, St. Leon Hot Springs hotel, ca. late 1938. TOP (l-r): Black (topographer), ?, Franz Ehl, Cairns (boss), Axel Wetterstrom, Dan Berard, Jack Harris. BOT: Joe Parent Jr., Sharp?, Ted Brown, Mickey O'Neal (cook), Cyril Mayoh .
Purchase Print