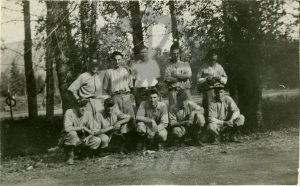 : 2003.026.360
: E28-16
:
: 1930-- - 1937--
: Alice Hiltz, Cyril Mayoh, and Milton Parent
: 1930s, baseball, Benton; Frank, Bowes; Herb, Burton Community Park (pre-1965), Campe; Charlie, Harris; John Elmslie 'Jack', Hiltz; Harvard, Howarth; Charlie, Jordan; Rollie, Mayoh; Cyril, Nakusp baseball team, Picard; Clarence, and White; Reg
: Burton
:
2 b/w photographs (7.2 cm x 5.0 cm), 1 b/w negative (35 mm)
:
Nakusp baseball team group portrait at Burton, 1930s. TOP:Rollie Jordan, Reg White, Herb Bowes, Jack Harris, Cyril Mayoh. BOT:Frank Benton, Harvard Hiltz, Charlie Howarth, Clarence Picard, Charlie Campe.
Purchase Print