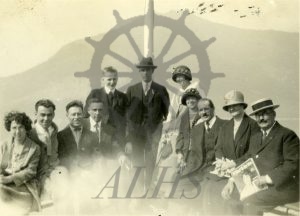 : 2003.026.351
:
:
: 1925-- - 1939--
: Gene Leveque and Milton Parent
: Davis; Grace, Ervin; Mr., Gardner; Hunter Jr., Leveque; Eric, Lodge; Amy (Beckett), Lodge; Ted, Parent; Della (Leveque), Parent; Joseph Jr., Stanley; A.B.S. 'Art' Jr., and sternwheelers
:
1 b/w photograph (8.3 cm x 6.2 cm on 9.3 cm x 13.4 cm matte)
:
Members of Nakusp Knights of Pythias lodge sailing on Arrow Lakes en route to Dokie convention in Vancouver, ca. late 1920s-1930s. L-R: ?, Hunter Gardner Jr., Eric Leveque, Joe Parent Jr., Art Stanley, ?, Grace Davis, Della Parent, Ted Lodge, Amy Lodge, Mr. Ervin (from Nelson).
Purchase Print