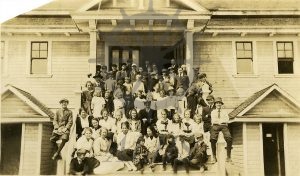 : 2003.026.345
:
:
: 1919--
: Della Parent and Milton Parent
: 1910s, Allan; Katharine 'Kay' (McDougald), Barron; T.J., Berard; Isabelle (Patterson), Calhoun; Inez (Carlson), Cowan; Elwood, Cox; Stafford, Fowler; Dick, Fowler; Gilbert, French; Phyllis (Rawlings), Fulkco; Dave, Harvey; Nellie, Hurry; Edith (Dilley), Hurry; Florence 'Flo' (Dilley), Jansen; Olive 'Ponnie' (Young), Jordan; Rollie, Keys; Mary (Kirk), Masters; Percy, Mathers; Alice (Leveque; Akerman), Mills; Inez, Nakusp Centennial Building, Nakusp School (1912-1957), Neubrand; Emil, Parent; Della (Leveque), Quance; Daisy Geraldine, Quance; Margaret, Root; Doris (Cowan), school, Soland; Mildred (Parent), Vaughan; Bessie (McWhirter), Vestrup; Elmer, Vipond; Jim, Woodhouse; Hilda (Patterson), and Young; Lillian
: Nakusp
:
1 b/w photograph (14.3 cm x 8.6 cm)
:
Class portrait on stoop, Nakusp Public School, 92 Lake Avenue North, Nakusp, 1919. TOP(l-r): ?, Anthony, Rollie Jordan, Turner, Clark, ?, ?, ?, ?, ?, ?, ?, ?, Emil Newbrand, Stafford Cox (teacher), Dick Fowler?. 2ND FROM TOP: T.J. Barron (teacher), G. Fowler, ?, ?, ?, ?, ?, ?, ?, Dick Fowler?. MID: Mildred Parent, Inez Mills, ?, Mills, ?, ?, ?, Lil Young, Olive Young, ?, Doris Cowan, Edie Dilley, Dave Fulkco. 2ND BOT: Elwood Cowan, Margaret Quance, Della Leveque, Katharine McDougald, Flo Dilley, Bessie McWhirter, visitor, Hilda Patterson, Phyllis Rawlings, Isabelle Patterson, Daisy Quance, Jim Vipond, ?. BOT: Inez Carlson (above), ? (below), Mary Kirk, Nellie Harvey, Alice Leveque, ?, ?, ?, Elmer Vestrup, Percy Masters.
Purchase Print