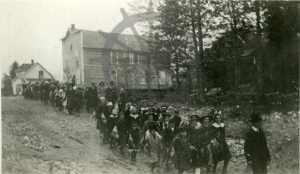 : 2003.026.294
: G21-34A
:
: 1919-- - 1924--
: Milton Parent and Theresa Borm
: Glenbank School, Knights of Pythias Hall, Lake Avenue (Nakusp), parade, and school
: Nakusp
:
1 b/w photograph (11.5 cm x 6.9 cm), 1 b/w negative (35 mm)
:
Children from Glenbank School marching south down Lake Avenue in front of Knights of Pythias Hall (89 Lake Avenue South) to greet dignitaries from England arriving at Nakusp waterfront. This may be the visit of the Duke and Duchess of Devonshire (Governor-General Victor Cavendish and Evelyn Cavendish) in 1919, or of Lord Byng and Lady Byng to Nakusp in 1924. Dr. Ernest McLean's house in background.
Purchase Print