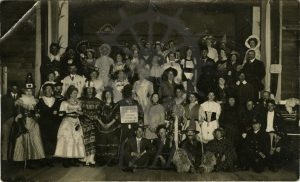 : 2003.026.28
:
:
: 1914-- - --
: Carruthers family and Milton Parent
: 1910s, 409 Broadway Street W, Abriel; Thomas, Appleby; Athos, costume/masquerade party, dance, Davidson; Olive (Vanderburgh), Edwards; Lewis J., Gayford; Ellen (McDougald), Haigh; Albert 'Bert', Haigh; Lucy May (Bourne), Jordan-Williams; Blanche, Ledger; Willow (Vanderburgh), Nakusp Amateur Dramatic Society/Nakusp Dramatic Club, Opera House (Nakusp), and Parent; Alice Sr.
: Nakusp
:
1 b/w photograph (13.8 cm x 8.5 cm)
:
Postcard showing group portrait in costume, Nakusp Drama Club masquerade dance, Opera House, Nakusp, 1914. Rothwell 2nd from bottom right. Bert Haigh at bottom right dressed as officer. Lucy Haigh 2nd from bottom left dressed as witch. Ellen McDougald 3rd from bottom left. Blanche Jordan 5th from bottom left. Athos Appleby 6th from bottom left. Alice Parent 8th from bottom left (white costume standing directly above first two people sitting on ground). Lewis Edwards 2nd from right in row above seated people. Dougal 4th from right in row above seated people. Mills at centre left. Carlson 2nd from centre left. Vipond in hat near centre. Dougal 4th from top left. Willow Ledger (Willow Vanderburgh) & ? Ledger at top centre (Willow Ledger marked as 'Louisa' on photo but identified as 'Willow Ledger" in notes. Olive Vanderburgh in plaits, 5th from right in 2nd row from top. Tom Abriel at right in 2nd row from top.
Purchase Print