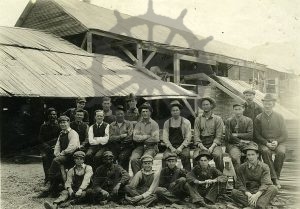 : 2003.026.265
:
:
: --
: Della Parent and Milton Parent
: 1910s, Carlson; Ed, forestry, Gardner; Hunter Jr., Hoover; Joseph 'Joe' (AKA Hoogerwerf; Johan 'Joe'), Leveque; Hercule 'Eric', Miller; H. Leslie 'Les', Parent; Joseph Jr., Parent; Joseph Sr., Quance & Carlson, Reilly; Dell Emanuel, sawmill, Sundstrom; Bert, Turner; Charles Edward, and Wood; Jim
: Nakusp
:
2 b/w photographs (21.5 cm x 16.3 cm, 17.2 cm x 12.5 cm on 17.7 cm x 13.4 cm matte)
:
Group portraits of workers at Quance & Carlson sawmill, Nakusp, 1917. TOP: Ed Carlson, Joe Parent, Dell Reilly, Charles Turner. MID: ?, Eric Leveque, Les Miller, Jim Wood, Joe Parent Sr. BOT: ?, ?, ?, Hunter Gardner, Joe Hoogerwerf, Bert Sundstrom.
Purchase Print