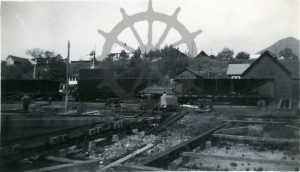 : 2003.026.255
: G21-18A
:
: 1953-06-
: Charlie Rollins and Milton Parent
: 1950s, AT No. 4 (barge), barge, Bay Street, Beaton Navigation Company, boat construction, Canadian Pacific Railway, drydock, Nakusp & Slocan Railway, Nakusp shipyard, train, and Upper Arrow Lake
: Nakusp
:
1 b/w photograph (11.5 cm x 7.0 cm), 1 b/w negative (35 mm)
:
Beaton Navigation Company ore barge AT No. 4 under construction on ways at Canadian Pacific Railway shipyard, June 1953, Upper Arrow Lake at Nakusp. Canadian Pacific (Nakusp & Slocan) Railway at centre with Bay Street hidden behind train.
Purchase Print