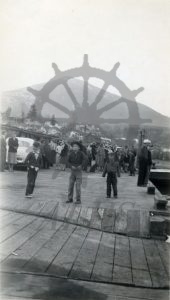 : 2003.026.218
:
:
: 1954-04-24
: Della Parent and Milton Parent
: 1950s, Beau Vista Motel, Canadian Pacific Railway, Canadian Pacific Railway station (Nakusp), Canadian Pacific Railway wharf (Nakusp), hotel, Leland Hotel, Mount Jordan, SS Minto final sailing (1954), train station, and Upper Arrow Lake
: Nakusp
:
1 b/w photograph (7.0 cm x 11.6 cm)
:
Onlookers gathered on Canadian Pacific Railway wharf at Nakusp to greet SS Minto as it pulls into dock on its final run, 24 April 1954. Mount Jordan in background. Leland Hotel on hillside above Bay Street at centre. Beau Vista Motel, Harold Clark's cabins, and Canadian Pacific (Nakusp & Slocan) Railway station seen below Leland.
Purchase Print