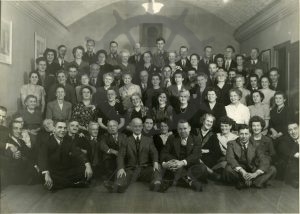 : 2003.026.185
:
:
: 1947--
: Milton Parent and Molly Harris
: DeGraaf Portrait Studio and Derek DeGraaf
: 1940s, Allan; Katharine 'Kay' (McDougald), Baird; Jim, Carlson; Ed, Clarke; Bette (Davison), Fowler; Ethel (Vipond), Fowler; Gilbert, Fraser; Irene (Genelle; Hughes), Haigh; Lucy May (Bourne), Harmony Hall, Kerr; Margaret (Wallace), Ledger; Gerald 'Jerry', Ledger; Willow (Vanderburgh), Martin; George 'Fuzzy', Martin; Naomi (Vipond; Cusick), McDougald; Don, McDougald; Sarah Maud (Muirhead), McDougald; Vera (Rogers), Picard; Florence Mildred (Harvey), Poole; Florence, Powell; Dorothy, Powell; George, Powell; Ina, Reilly; Dell Emanuel, Salstrom; Oscar, Smith; Ken, Vaughan; Bessie (McWhirter), Vaughan; Harry, and Vipond; Fred
:
1 b/w photograph (24.2 cm x 17.2 cm)
:
Large group portrait of Nakusp residents taken at Harmony Hall, Vancouver, 1947. Photo by DeGraaf Portrait Studio (Derek DeGraaf was the former Bouke Hoogerwerf of Nakusp). TOP(l-r): Gerald Ledger, Don McDougald, ?, Denholm, Jim Baird, ?, ?, ?. 2ND TOP: Cann, Reilly, ?, Reilly, ?, ?, Peggy Kerr, Smith, ?, ?. 3RD TOP: Del Reilly, Ken Smith, Bert Fowler, ?, Powell, ?, ?, ?, ?, ?. 3RD BOT: ?, ?, Wood, ?, Carlson, Haig, Betty Davison, Naomi Vipond, ?, Salstrom, Powell, Dorothy Powell. 2ND BOT: Irene Genelle, ?, Maud McDougald, Willow Ledger, Florence Poole, Vipond, Gardner, McKay, Ethel Fowler, Ina Powell, Mrs. Wood. BOT: ?, Fred Vipond, ?, Woods?, Ed Carlson, Oscar Salstrom, McDougald, Powell, Fuzzy Martin, Vera McDougald, Katherine McDougald, McKay, Bessie Vaughan, Florence Picard, George Powell, ?, Harry Vaughan.
Purchase Print