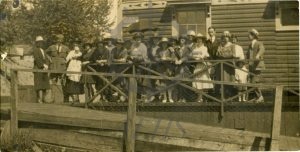 : 2003.026.183
:
:
: 1920-- - 1930--
: 1920s, Buhl; Lois, Canadian Pacific Railway, Canadian Pacific Railway station (Nakusp), French; Phyllis (Rawlings), Harvey; Nellie, Jordan; Genevieve (Cutler), Leveque; Eric, McCallum; Bessie, McCormack; Pearl (Parent), Meldrum; Bob, Messenger-Hakeman; William George 'James', Nakusp & Slocan Railway, Soland; Mildred (Parent), and Vipond; Ed
: Nakusp
:
1 b/w photograph (22.5 cm x 11.3 cm)
:
Group of people posing at Canadian Pacific Railway station, Nakusp, ca. 1920s. Group includes (L-R from left front): ?, James Hakeman, Pearl Parent, Mildred Parent, Genevieve Jordan, Bessie McCallum, Lois Buhl, Phyllis Rawlings, Nellie Harvey, Ed Vipond. Bob Meldrum behind Nellie Harvey. Eric Leveque at back centre.
Purchase Print