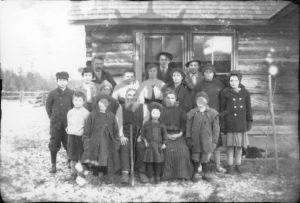 : 2003.026.141
: G19-31
:
: 1915-- - 1923--
: Evelyn Rusenstrom and Milton Parent
: Buckmaster; Alice (Dedoossenco/Dedosenco; Shaw), Clarke; Violet (Dedoossenco/Dedosenco; Dedoe; Wyatt), Dedosenco; Christina (Hookowa; Dedoossenco; Dedoe), Dedosenco; Dimitry 'Meta' (Dedoossenco), Dedosenco; John (Dedoossenco), Froloff; Albert, Froloff; Ksenia, Froloff; Leon, Froloff; Olga, Hands; Annie (Dedoossenco/Dedosenco), Kenchik; Andy, Mell; Violet (Froloff), Shaw; Christina 'Tiny', Shinkorenko; Helen, Shinkorenko; Yegor/Gregory, Walker; Helen (Dedosenco), and Yergen; Elizabeth 'Betty' (Dedoossenco/Dedosenco)
:
1 b/w photograph (9.2 cm x 6.9 cm), 1 b/w negative (35 mm)
:
Group posing in front of home in Galena Bay, early 20th century. TOP(l-r): John Dedosenco, Meta Dedosenco, Andy Kenchik. 2ND Top: Albert Froloff, Violet Froloff, Christina Dedosenco, Alice Shaw, Ksenia Froloff, Elizabeth Dedosenco, Annie Dedosenco. 2ND BOT: Leon Froloff, Violet Dedosenco, Helen Shinkorenko, Yegor Shinkorenko, Helen Dedosenco. BOT: Olga Froloff, Christine Shaw.
Purchase Print