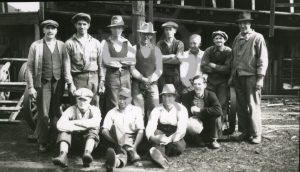 : 2003.016.17
:
:
: 1936-- - --
: 1930s, Baird; George, Big Bend Lumber Co., Big Bend/Celgar mill (Nakusp), Brodie; Archie, Chadwick; Dan Sr., Chappell; Thomas, forestry, Fraitzl; Mike, Harris; Bert, Mikulasik; John, sawmill, Shelling; Joe, Surina; John, Talbot; Percy, Turner; Albert, and White Pine Lumber Co.
: Nakusp
:
1 b/w photograph (12.8 cm x 9.3 cm)
:
Group portrait of workers at White Pine (Big Bend) Lumber Co. lumber mill, 1936. TOP (l-r): Charles Turner, John Surina, Albert Turner, Joe Shelling, Dan Chadwick, Bert Harris, Percy Talbot, Archie Brodie. BOT:George Baird, Mike Fraitzl, John Mikulasik, Thomas Chappell.
Purchase Print