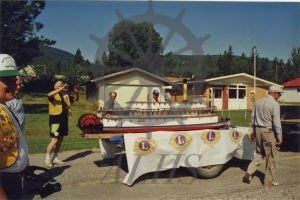 : 2003.005.1.58
:
:
: 1991-- - --
: Bill McDonald and Kootenay Lake Historical Society
: 1990s, Edgewood Centennial Homecoming (1991), Edgewood Lions Club, Edgewood post office, Lakeshore Avenue, McFarlane; Jim, McQuire; Ben, model boats, parade, post office/Canada Post, SS Minto, SS Minto (1991 replica), and sternwheelers
: Edgewood
:
1 colour photograph (15.1 cm x 10.2 cm)
:
Edgewood Lions Club members escort SS Minto replica on parade float in front of Edgewood Post Office (211 Lakeshore Avenue), 1991 Edgewood Centennial Homecoming. Jim McFarlane raising hands at left. Ben McQuire at far right.
Purchase Print