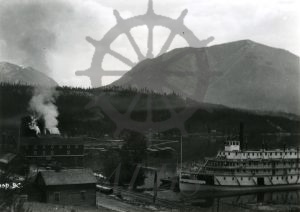 : 2001.037.9
:
:
: 1925--
: Brian Wilson and Milton Parent
: 1920s, Bay Street, Box Mountain, Canadian Pacific Railway, Canadian Pacific Railway workshop, forestry, Lidberg; Gus, Nakusp & Slocan Railway, Nakusp shipyard, Quance & Carlson, Rothwell Bay, sawmill, SS Bonnington, sternwheelers, and Upper Arrow Lake
: Nakusp
:
1 b/w photograph (17.6 cm x 12.7 cm)
:
East side of Upper Arrow Lake waterfront at Nakusp, 1925. Box Mountain in background. Canadian Pacific Railway workshop at centre left in front of smoke from Quance & Carlson/Howarth mill. Gus Lidberg house at bottom left. SS Bonnington at bottom right. Canadian Pacific (Nakusp & Slocan) Railway and Bay Street at bottom centre. Photo by Geo. A. Meeres, Campbell Art Gallery, Nelson .
Purchase Print