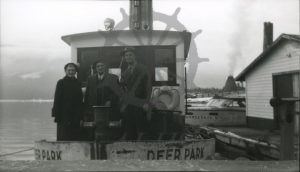 : 2001.037.383
: C34-14A
:
: 1952-10-
: Kate Johnson and Milton Parent
: 1950s, beehive burner, Big Bend/Celgar mill (Nakusp), Celgar, Deer Park (tug), forestry, Horseshoe (tug), Johnson; Ernest Cregg 'Ernie', Johnson; Kate (Bailey), sawmill, Sutherland; Frank, tugboats, and Upper Arrow Lake
: Nakusp
:
1 b/w photograph (13.5 cm x 7.6 cm), 1 b/w negative (35 mm)
:
Kate Johnson (left), Ernie Johnson (centre), and Captain Frank Sutherland posing on deck of Celgar tug Deer Park docked at Nakusp following its launch, October 1952. Beehive burner from Celgar (Big Bend) sawmill in background behind Horseshoe No. 4 (Celgar tour boat).
Purchase Print