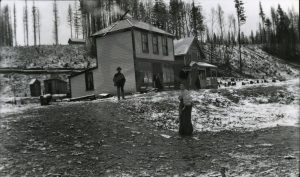 : 2001.037.374
: F11-21
:
: 1909-- - 1912--
: Milton Parent and Walter Nelson
: 1910s, Arrow Park Hotel, Arrow Park School, Hemingway General Store, hotel, Mauchline; Guy, Mauchline; Henry 'Harry', Nelson; Agnes (Mauchline), Richardson; Margaret 'Maggie' (Mauchline), school, and store
:
1 b/w photograph (17.8 cm x 11.8 cm), 1 b/w negative (35 mm)
:
Hemingway's store & Arrow Park Hotel, Arrow Park, ca. 1909-early 1910s. Arrow Park School seen near top of hill. Mauchline family posing in front of store at centre. TOP (L-R): Harry Mauchline, Guy Mauchline, Agnes Mauchline. BOT: Margaret Mauchline.
Purchase Print