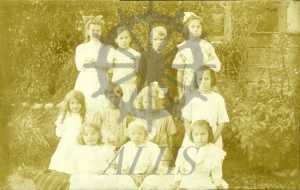 : 2001.037.372
:
:
: 1911--
: Milton Parent and Vera McDougald
: 1910s, Aalten; Henrietta, Allan; Katharine (McDougald), birthday, Horne; Phyllis, Hughes; Hildred (Gardner), McDougald; Don, Parkinson; Lydia Jr., Pearson; Helen (Gardner), Sanderson; Rika (Funcke), Walker; George, and Yoder; Bernadine
: Nakusp
:
1 b/w photograph (22.8 cm x 18.0 cm)
:
Group portrait of children at Nakusp (outdoor), Phyllis Horne's birthday, 1911. TOP (l-r):Lydia Parkinson, Bernadine Yoder, George Walker, ?. MID: Phyllis Horne, Don McDougald, Katharine McDougald, Hildred Gardner. BOT: Rika Funcke, Henrietta Aalten, Helen Gardner.
Purchase Print