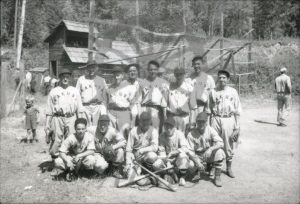 : 2001.037.294
: E41-12A
:
: 1945-- - 1948--
: Ernie Baird and Milton Parent
: 1940s, baseball, Burton Community Park (pre-1965), Desrochers; Fred, Dolman; Frank, Dolman; Jack, Highland; Ken, Hood; Cam, Kazlo; Alex, McPhee; Ralph, Nakusp baseball team, Nesbitt; Wilfred 'Wig', Olson; Del, Wanstall; Charlie, White; Reg, and Yurick; Louis
: Burton
:
1 b/w photograph (12.6 cm x 8.7 cm), 1 b/w negative (35 mm)
:
Nakusp baseball team group portrait on field, Burton, late 1940s. TOP(l-r):Charles Wanstall, Ken Highland, Del Olson, Alex Kazlo, Frank Dolman, Reg White, Frank Dolman, Wig Nesbitt. BOT(l-r):Fred Desrochers, ? Millar, Cam Hood, Louis Yurick, Ralph McPhee.
Purchase Print