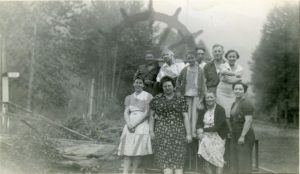 : 2001.037.293
:
:
: 1935-- - 1942--
: Della Parent and Milton Parent
: Akerman; Herman, Canadian Pacific Railway, Greenlaw; Archie, Greenlaw; Edna (Angrignon), Kootenay & Arrowhead Railway, Leveque; Ada (McNeish), Leveque; Eugène Camille, Leveque; Evelina (Duquette), M600 speeder car, Mathers; Alice (Leveque; Akerman), Parent; Della (Leveque), Ringheim; Audrey (Leveque), speeder car, and train
: Lardeau
:
1 b/w photograph (13.9 cm x 8.9 cm)
:
Group posing on back of M600 speeder car, Canadian Pacific (Kootenay & Arrowhead) Railway, Lardeau, ca. 1930s-early 1940s. TOP (l-r): ?, Eugene Leveque, Archie Greenlaw, Herman Akerman, Della Parent. BOT: Ada Leveque, Edna Greenlaw, Audrey Leveque (standing), Evelina Leveque, Alice Akerman.
Purchase Print