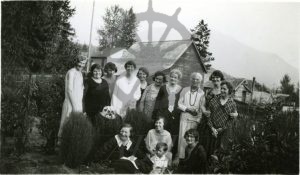 : 2001.037.250
:
:
: 1930--
: Alice Mathers and Milton Parent
: 1930s, Benton; Frances Louisa (Hudson), Harvey; Florence (Moul), Horrey; Edith 'Edie', Humphris; Alice Sr., Hurry; Florence 'Flo' (Dilley), Johnson; Kate (Bailey), Jordan; Ella (Nordstrom; Buerge), Leveque; Evelina (Duquette), Lodge; Amy (Beckett), Mayoh; Lucy May (Bourne), Parent; Della (Leveque), and Parent; Len
: Nakusp
:
1 b/w photograph (11.4 cm x 7.0 cm)
:
Group portrait of party attendees in yard of Flo Dilley home, Nakusp, at party celebrating Amy Lodge, 1930. TOP (l-r): Mrs. Jones' sister, Ella Buerge, Edith Horrey, Alice Humphris, Flo Dilley, Lucy Mayoh, Florence Harvey, [illegible], Amy Lodge, Frances Benton. BOT: Evelina Leveque, Della Parent, Len Parent, Kate Johnson.
Purchase Print