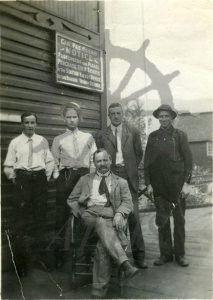 : 2001.037.245
: F20-8
:
: 1912--
: Ed Vipond and Milton Parent
: 1910s, Canadian Pacific Railway, Canadian Pacific Railway station (Nakusp), Cusick; Clyde, Edwards; Lewis J., Edwards; Wynne, Nakusp & Slocan Railway, Paddon; W.L., and Vicock; Andy
: Nakusp
:
1 b/w photograph (7.5 cm x 10.4 cm), 1 b/w negative (35 mm)
:
Station agent Lewis Edwards seated in front of Canadian Pacific Railway station with four men standing behind him, Nakusp, 1912. TOP(l-r): Wynne Edwards (clerk), Clyde Cusick (operator), W.L. Paddon (Assistant operator), Andy Vicock (wharfinger). BOT: Lewis Edwards (agent).
Purchase Print