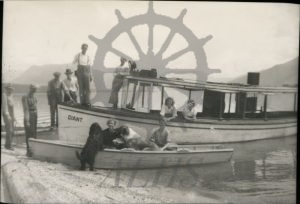 : 2001.037.24
: D23-8
:
: 1935-- - 1945--
: Diana Manning and Milton Parent
: Adams; Jack, Bohle; Heather (Herridge; Gates), Compton; Bill, Giant (tug), Gillman; Pam (Herridge), Herridge; Ella (Leppingwell), Herridge; Herbert Wilfred 'Bert', Kirk; Fred [Glenbank], Manning; Diana (Herridge), tugboats, and Upper Arrow Lake
:
1 b/w photograph (12.4 cm x 7.0 cm)
:
Group posing in and around boat Giant while it is docked at beach, Shoreholme, Upper Arrow Lake, ca. late 1930s-1940s. Giant was originally Walter Shiell's boat for towing birch logs during World War I and was later purchased by Bert Herridge. BACK(l-r): Jack Adams, Bill Compton, ? Webster, Fred Kirk, Bert Herridge, Ella Herridge, Heather Herridge, Diana Herridge. ROWBOAT: Pam Herridge, ?.
Purchase Print