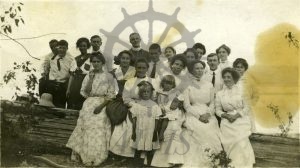 : 2001.037.230
: E8A-17A
:
: 1911--
: Ed Vipond and Milton Parent
: 1910s, Cannock; Mrs., church, Edwards; Harriet, Edwards; Mervyn, Exshaw; T., Fowler; Ethel (Vipond), Girling; B., Girling; D., Girling; R., Hardy; George, Leslie; Catharine (Vipond), MacAfee; Hannah Doris Waverley (Edwards), McCamon; Florence 'Flossie' (Edwards), Parent; Alice Sr., Phillimore; Rev. Stephen L., picnic, postcard, St. Mark's Anglican Church (1893-1968), Thompson; Walter, Upper Arrow Lake, Vipond; Lena, and Williamson; Mrs.
:
1 b/w photograph (13.9 cm x 8.5 cm), 1 b/w negative (35 mm)
:
Postcard showing attendees, St. Mark's Anglican Church picnic, West Demars, 1911. TOP (l-r): Mervyn Edwards, T. Exshaw, Flossie Edwards, ?, Rev. Phillimore, George Hardy, Doris Edwards, Lena Vipond, Mrs. Edwards, Walter Thompson, Mrs. Cannock, ?. BOT (l-r): Mrs. Fowler, Catharine Vipond, Mrs. Vipond, Mrs. R. Girling, Mrs. Parent, Mrs. Williamson. CHILDREN: B. Girling, D. Girling. Postcard sent to Miss C.M. Vipond c/o Miss B. Amos, Nelson .
Purchase Print