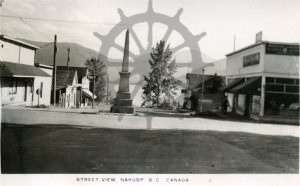 : 2001.037.173
:
:
: 1943--
: Canadian Post Card Co. and G.O.S.
: 1940s, 402 Broadway Street W, Arrow Lakes Supply Co., barber shop, Broadway Street, Carty's Cafe, cenotaph, Edwards Block, hotel, Leland Hotel, Overwaitea Foods, Ralph Islip/Broadway Store, restaurant, Scalping Knife Mountain, Slocan Avenue, store, and Upper Arrow Lake
: Nakusp
:
1 b/w postcard (13.3 cm x 8.8 cm)
:
Postcard, intersection of Broadway and Slocan Avenue, Nakusp with cenotaph at centre, 1943. Buildings L-R: drugstore, Carty's Cafe, Overwaitea, cenotaph, Leland Hotel, Eugene Leveque barber shop, Maxwell's hardware store. Photo by G.O.S.
Purchase Print