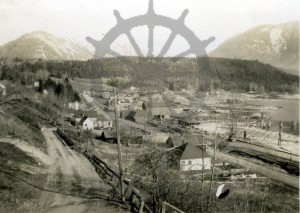 : 2001.037.162
:
:
: 1940-- - 1960--
: Della Parent and Milton Parent
: Bay Street, Canadian Pacific Railway, Canadian Pacific Railway workshop, Nakusp & Slocan Railway, Slocan Avenue, Spicer Farm, and Upper Arrow Lake
: Nakusp
:
1 b/w photograph (9.0 cm x 6.4 cm)
:
View of southeast Nakusp above Upper Arrow Lake as seen from Leland Hotel entrance, late 1940s-1950s. Switchback leading from Slocan Avenue to Bay Street at bottom left. Bay Street runs through centre of image. Canadian Pacific Railway shipyard, including workshop and ways at centre/centre-right. Spicer farm seen just above centre.
Purchase Print