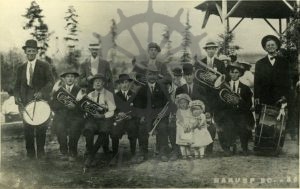 : 2001.037.158
:
:
: 1912--
: Della Parent and Milton Parent
: 1910s, Bailey; Jack, Carlson; Ed, Etter; Mark, Green; Robert 'Bob', Gregory; Charles, Herridge; Herbert Wilfred 'Bert', Herridge; Norman Archibald 'Archie', Hoogerwerf; Jan, Lamerton; Ernie, Leveque; Gene, Mills; Bob, Mills; Helen, Mills; Inez, music, Nakusp Brass Band, Nakusp Recreation Park, and postcard
: Nakusp
:
1 b/w photograph (17.0 cm x 11.0 cm)
:
Nakusp Band portrait with instruments, Nakusp Recreation Grounds, 1912. TOP(l-r): Jan Hoogerwerf, Bert Herridge, Ed Carlson (boy), Wakelyn. BOT: Mark Etter, Jack Bailey, Archie Herridge, Gene Leveque, Ernie Lamerton, Bob Mills with Helen Mills & Inez Mills, Charles Gregory, Bob Green.
Purchase Print