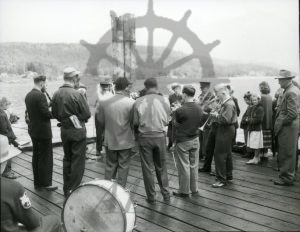 : 2001.037.157
:
:
: 1952-07-01
: Derek DeGraaf and Milton Parent
: DeGraaf Portrait Studio and Derek DeGraaf
: 1950s, Bailey; Jack, Bedard; George, Canada Day, Government wharf (Nakusp), Larson; Lars, music, Nakusp Brass Band, Nakusp Diamond Jubilee, Obayashi; Robbie, Parent; Milton, Picard; Clarence, and Upper Arrow Lake
: Nakusp
:
1 b/w photograph (17.7 cm x 12.6 cm)
:
Nakusp Brass Band members playing on government wharf, Upper Arrow Lake, Nakusp, for July 1st/Nakusp Diamond Jubilee festivities, 1 July 1952. L-R: Clarence Picard, Lars Larson, Robbie Obayashi, George Bedard, Milt Parent, ?, ?, ?, Jack Bailey. Photo by DeGraaf Portrait Studio (Derek DeGraaf), Vancouver.
Purchase Print