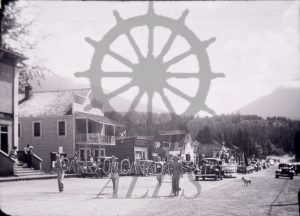 : 2001.037.114
:
:
: 1940-07-01
: Milton Parent and W.M. Allan
: 1940s, Broadway Cafe/Royal Cafe, Broadway Street, Canada Day, Elliot; Bea (Johanson), Johnson; Ruth, Masonic Building (Nakusp), Morrow; Margaret (Salstrom), parade, and restaurant
: Nakusp
:
1 b/w negative print (16.3 cm x 12.0 cm)
:
July 1st parade, Broadway Street, Nakusp, 1 July 1940. Parade proceeding down Broadway in front of Masonic Building and Royal Cafe with marchers carrying 'Carry On Canada' banner. Ruth Johnson, Bea Johanson, and ? holding banner with Margaret Salstrom marching alongside.
Purchase Print