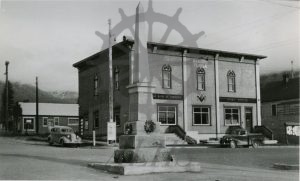 : 2000.061.8
:
:
: 1940-- - 1950--
: 1940s, bank, Broadway Street, Canadian Imperial Bank of Commerce, cenotaph, Masonic Building (Nakusp), Nakusp cenotaph, Nakusp post office, post office/Canada Post, postcard, and Slocan Avenue
: Nakusp
:
1 b/w postcard (13.9 cm x 8.9 cm)
:
Postcard of Nakusp cenotaph, corner of Broadway Street and Slocan Avenue, with Masonic Building (317 Broadway Street W, Nakusp, housing Masonic Lodge, Canadian Imperial Bank of Commerce, and Nakusp post office) in background, 1940s. Postcard by Irwin Specialty Co., Toronto. Postcard sent by Marilyn Massey to grandmother Ann Smeal of Drumheller, Alberta.
Purchase Print