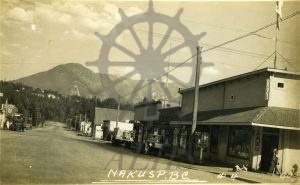 : 2000.058.42
:
:
: 1943--
: G.O.S. (Gordon Osborne Sutherland)
: 1940s, 306 Broadway Street W, 308 Broadway Street W, 312 Broadway Street W, 314 Broadway Street W, B.C. Telephone Co., Broadway Street, Buerge's Garage, Edwards Block, Nakusp Drug Store/Head's Pharmacy, Nakusp Meat Market, Nellie's Specialty Shoppe, pharmacy, postcard, Ralph Islip/Broadway Store, Rushton Hardware and Furniture, and store
: Nakusp
:
1 b/w postcard (13.9 cm x 8.8 cm)
:
Postcard image of south side, 300 block, Broadway Street looking eastward from intersection of Broadway and Slocan, 1943. Edwards block (Islip grocery, telephone office, drug store) at right. Rushton's hardware (formerly Wagstaff & Vestrup store) at centre. Buerge's garage and truck seen on opposite side of street at left. Photo by G.O.S. Image taken from an album given to Ferdi Knoess by Paul Surina.
Purchase Print