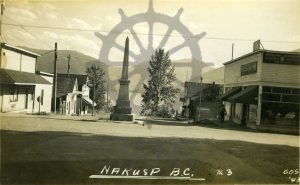 : 2000.058.40
:
:
: 1943--
: G.O.S. (Gordon Osborne Sutherland)
: 1940s, 402 Broadway Street W, 85 4th Avenue SW, 87 4th Avenue SW, 88 4th Avenue SW, 90 4th Avenue SW, Arrow Lakes Supply Co., barber shop, Broadway Street, Cartie's Cafe, cenotaph, Edwards Block, hotel, Leland Hotel, Nakusp cenotaph, Nakusp Drug Store/Head's Pharmacy, Overwaitea Foods, pharmacy, postcard, Ralph Islip/Broadway Store, restaurant, Scalping Knife Mountain, Slocan Avenue, store, The Recess (pool hall/barber shop), and Upper Arrow Lake
: Nakusp
:
1 b/w postcard (13.9 cm x 8.7 cm)
:
Postcard, intersection of Broadway and Slocan Avenue, Nakusp with cenotaph at centre, 1943. Buildings L-R: drugstore, Cartie's Cafe, Overwaitea, cenotaph, Leland Hotel, Eugene Leveque barber shop, Maxwell's hardware store. Photo by G.O.S. Image taken from an album given to Ferdi Knoess by Paul Surina.
Purchase Print