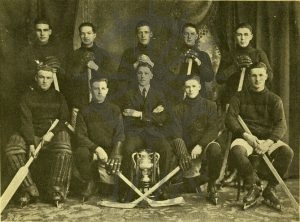 : 2000.035.83
:
:
: 1923--
: Arrow Lakes Historical Society
: 1920s, Adams; T.F., Broom; E., Coy Cup, Enderby hockey team, Graham; G., hockey, Jones; George, McQueen; A.D., Reid; M.J., Sparrow; E., Sparrow; George, Sparrow; R., and Speers; S.H.
: Enderby
:
1 b/w photograph (20.9 cm x 16.5 cm)
:
Studio portrait, 1922-1923 Enderby Hockey Team, posing with Coy Cup symbolic of the British Columbia championship. TOP(l-r): E. Sparrow (right wing), A.D. McQueen (substitute), M.J. Reid (defence), George Sparrow (substitute), R. Sparrow (defence). BOT: George Graham (goal), T.F. Adams (left wing), S,H. Speers (manager), E. Broom (centre), George Jones (substitute goal).
Purchase Print