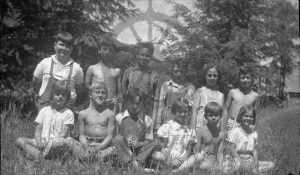 : 2000.035.81
: G18-00/G21-3A
:
: 1937--
: 1930s, Gardner; Joe, Gardner; Lindon, Hall; Allan, Lea; Doris, Markwick; Norman, Martin; Leslie, Mount Ingersoll School, Roberts; Ernie Jr., Roberts; Francis, Roberts; Fred, Roberts; Henry 'Dick', Roberts; Phyllis, school, and Shaw; Alice (Roberts)
:
1 b/w negative (65 mm), 2 b/w negative (35 mm)
:
Group portrait of schoolchildren at Mt. Ingersoll School, Graham's Landing, 1937. TOP(l-r): Allan Hall, Ernie Roberts, Fred Roberts, Leslie Martin, Phyllis Roberts, Lindon Gardner. BOT: Francis Roberts, Dick Roberts, Norman Markwick, Doris Lea, Joe Gardner, Alice Roberts.
Purchase Print