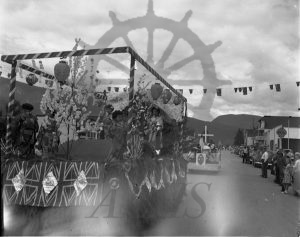 : 2000.035.30.9
: P4-9
:
: 1952-07-01
: 1950s, 301 Broadway Street W, 311 Broadway Street W, Broadway Cafe/Royal Cafe, Broadway Street, Canada Day, F.T. Mamchur, Japanese Canadians, Knights of Pythias, Nakusp Diamond Jubilee, Nakusp Shell Service, and parade
: Nakusp
:
1 b/w negative (13.4 cm x 10.1 cm)
:
Parade float celebrating Japanese-Canadians passes by Nakusp Shell Serivce (301 Broadway Street W), July 1st/Nakusp Diamond Jubilee parade, 1 July 1952. Knights of Pythias Christian youth group float, Broadway Cafe, and F.T. Mamchur store in background. Photo by DeGraaf Portrait Studio (Derek DeGraaf), Vancouver.
Purchase Print